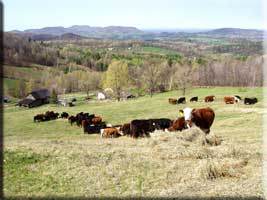 A CSA favorite, Lewis Waite farm produces grassfed cattle, lamb, and pork for a number of NYC CSAs.  Farmers Alan and Nancy Brown coordinate with nearby farms to offer poultry, cheese, milk and other delicious foods. Offerings include pasture-raised meat, farm eggs, bread, dairy, artisan cheese. Other choices include pantry staples, too, all local and naturally made: granola, fresh stone-ground organic flour, dried organic beans and grains, natural jams and chutneys, natural sweeteners, locally roasted organic coffee, apple cider vinegar, and more.
To purchase products from Lewis Waite farm and their neighboring farms, just go to their web site and use their order form. Then you pick up your order on Tuesdays. Pay via the Lewis Waite web site.
Deliveries during the Summer and Fall happen on average, twice per month. Deliveries during the winter are once per month and take place at a members home.
Calendar for the Hellgate 2021 Season:
June 15, June 29th
July 13th, July 27th
August 10th, August 24th
September 7th, September 21st
October 5th, October 19th
November 2nd
These dates are subject to change please check your LW account to be up to date. 
Once you are logged in, you can page through the product lists and start making a list! Orders must be place by the order cutoff date for distribution on the delivery date. Upon placing an order, you will receive an email order acknowledgment displaying all the items ordered with estimated amount based on the average size/weight of items.